a story written from one of my favorite songs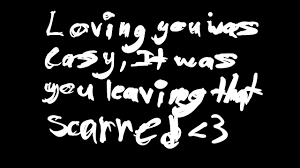 "running away is easy"
my bag is packed. i don't have much, so i only needed a backpack. the family will be asleep, so all i need to do is walk out the front door. and never look back.
"it's the leaving thats hard"
her. i wish i could take her with me. she deserves so much better than where she is right now. but, she doesn't deserve me. she'll be happier without me, live better without me. right? she'll be ok. better than ok. she has him, she doesn't need me anymore. 
"and loving you was easy"
we had so much fun together. our walks. our talks. ha, i loved every bit of it. dancing under the stars, sneaking downstairs to eat chocolate at 2 o clock in the morning, driving to literally no where. did you have as much fun as i did? did you love all the time we spent together, as much as i did? 
"it was you leaving that scarred"
i guess you did. i got that text too little too late, you know? bad reception. i would have came back for you, you know i would have. if only i knew. if only i knew how you really felt. if only i realized. now all i have left are the memories. all the photos. videos. the most tangible you'll ever be.