Meet Mrs. Clark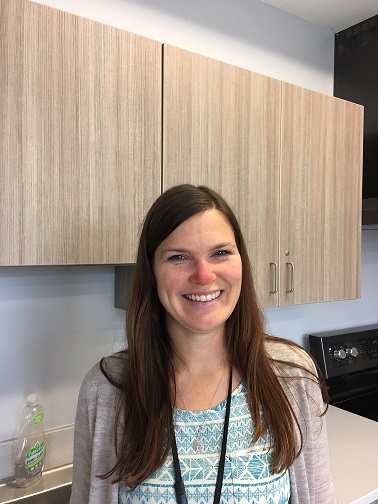 We wind up in the Family and Consumer Science room because it is listed as a class on our schedules! Mrs.Clark chose to fill in for Ms.Kinne in the FACS(more commonly known as Home and Careers) room.  Read on and find out what led her to us! 
 Where did you go to college?
Mrs. Clark: "I am on my fourth college to date. I started at the University of New Hampshire right out of high school. By my junior year of college, I decided to go to the University of North Carolina at Wilmington before I realized that I didn't love living in the south. Finally I wound up at the University of Albany where I received two degrees. I am currently attending college online through SUNY Empire State College."
 What degrees do you have?
Mrs. Clark: "I have a Bachelor of Science in Environmental Science and a Masters of Arts in Geography. I am currently working on getting my Masters of Arts in Teaching."
 Have you had a job before this one,if so what was it?
Mrs. Clark: "Yes. I have subbed through BOCES for the last three years. However, before I decided I wanted to become a teacher, I worked at a private renewable energy consulting company called AWS Truewind. I work on wind and solar energy projects."
  What made you want to teach FACS?
Mrs. Clark: "They needed a FACS teacher so I said yes to the job! My real desire is to be a Science teacher with a focus in Biology."
  Have you done any sports?
Mrs. Clark: "Yes. I played soccer for nearly 14 years when I was younger. I also played lacrosse for 3 years and danced for 10 years."
With whom do you life? Include pets and feel free to expand on the pet topic if you have any.
"I live with my husband, two sons and our foster daughter. We have two pets: a fish named Joey and dog named Marley. We've had our fish Joey, for over four years now. He's a bright orange goldfish that we got out of my friend's pond and he's continued to thrive in a tiny little fish bowl since then! Our dog, Marley, is a mutt who we adopted from the Adirondack-Save-a-Stray shelter a year and a half ago. She's a mix of Bulldog, Pitbull, Labrador and German Shepard (they believe). She looks more like a Bulldog/Pitbull with yellow-orange fur and white paws/snout, but has the personality of a Labrador Retriever (my favorite pet). She's the best playmate in our house!"
What do you do in your free time?
Mrs. Clark: "These days I am busy working on preparing for the classes I teach and writing papers for my college courses. I spend a lot of time on the athletic fields with my three kids. The boys play soccer, basketball and baseball (year round). My daughter dances and is currently playing soccer as well. When we have free time as a family, we love to travel, camp, fish, hike, spend time with friends and family, especially on a lake, and play lots of games (wiffle ball, basketball, board games, you name it). When I have quiet timem I like to read, do yoga, ride my bike and hike (mainly just be outdoors). I LOVE the quiet too!"
   I would personally like to thank Ms.Clark for stepping in and filling the role of the FACS teacher. She makes her classes so fun and enriching. I feel like I learn a lot of things I didn't know about food in her class. I wish I could have FACS all year. If you don't have FACS yet,you are in for a real treat when you have it!