Throwback : Beauty and the Beast
I participated in the "Beauty & The Beast" play put on by Galway Players in the fall, and it was one of the greatest experiences I've ever had! I was a napkin and a wolf, which were both dancing parts. I liked both of the dances, but liked the wolf dances a little bit more. The napkin dance was a can-can dance, which is basically a bunch of kicking put together into a dance. It's quite exhausting, but still very fun! In the wolf dance,we got to chase people around, specifically Mariece, Belle's father, and Belle herself! In the first wolf dance, Mariece was walking through the woods to a machine festival with a machine he invented, when the "wolves" come out of the woods and attack him. He runs,and we chase him into the Beast's castle. The next dance we did was the can-can dance, in the song "Be Our Guest." We were a big hit! Then after that we had another wolf dance, where we chased Belle, and the Beast attacked us, and we had to run away. After that there was another dance with us as napkins, and we were with the leading roles in the castle, like Lumiere and Cogsworth. I was also in the prologue and ending scene as a dancer. I loved doing the play! I made so many new friends that I still talk to today! I can't wait to do my next show, which is Shrek the Musical. Hope to see you there!    
About the Writer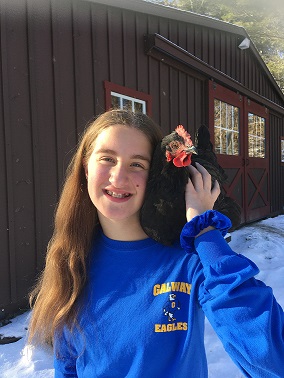 Hailey Reome, Jr. High EMC Staff Writer
Hailey is 13 yrs old and is in 8th grade. She likes to draw,read,dance,sing,and ride horses in her free time. She is on the Sr. Competition Dance team...