Food Truck Wars
Hang on for a minute...we're trying to find some more stories you might like.
During the 1st quarter, my FACS class has been doing a project called "Food Truck Wars." Within this project,you would have to draw up a plan for a truck, design a logo,and plan a menu. You would also have to pick a theme and a name for the truck. Then you would pick a specialty item,which could be an item already on the menu (5 items), or a completely new one. You would also have to come up with affordable prices for your food on the menu. Once you've finished all that,then you and your group would then have to cook the specialty item. My group,consisting of Ava, Mariska and I, decided to have a carnival theme,and name our truck "Aviskey's" because it's a combo of all of our names! We decided to make Mini Crepe Cakes,which is basically a crepe,but 3 times smaller,and layered to look like a cake. We put whipped cream and sprinkles in between each layer,which I think was a really good addition. We ended up coming in 3rd overall. The winner was Kaylee and Sophia,with the S'mores dip and fruit smoothie. Their S'mores dip was REALLY good! They deserved 1st  place! Everyone else's food was delicious too! My personal favorite was the spicy chicken wings made by Marvell,Gavin,and Hayden. They were cooked perfectly! This was a very fun project,and I can't wait for the rest of the 7th graders to do this project. You will have so much fun! And hey,maybe in 10 years,one of our groups could be the stars of "The Great Food Truck Race!"
About the Writer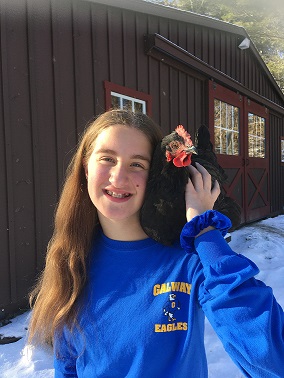 Hailey Reome, Jr. High EMC Staff Writer
Hailey is 12 yrs old and is in 7th grade. She likes to draw,read,dance,sing,and ride horses in her free time. She is on the Sr. Competition Dance team...