5 Great Things About Galway: A New Student Perspective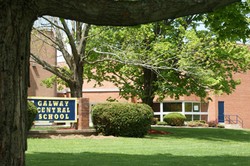 Sara Conti, Junior Editor and Sr. High Staff Writer
October 12, 2017
Galway's amazing community is different than many other schools. Galway provides a variety of opportunities for students. Everything from field trips to after school clubs and sports are outstanding. The teachers are very nice and enjoy teaching students who enjoy learning. The top five things I've noticed about Galway are:
5. Everyone is so friendly and welcoming.
4.The teachers are willing to help students during lunch and after school.
3.The small community makes it possible to express opinions.
2.There is space to enjoy being outside.
1.The school offers a wide variety of new things to learn.
What's your favorite  thing about Galway?