Interviewing a Nocturnal Student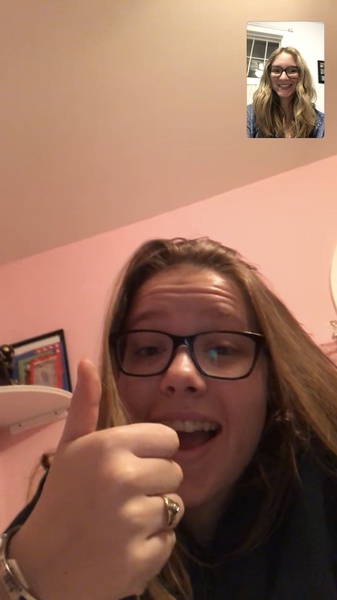 With the requirement of dragging oneself out of bed at 6 a.m. ceasing to exist, the inevitable has happened. We've all reverted back to our summer late night sleep schedules. One student in particular, sophomore Anna Meisenburgh, has turned her messed up sleep cycle into a semi-productive lifestyle. The self-proclaimed nocturnal student agreed to an interview with me during the few hour time period when we are both awake.
Q: What hours are you awake for?
A: I wake up at around 4-5 p.m. and go to sleep at 7 or 8 a.m.
Q: How did you become nocturnal?
A: I became nocturnal pretty quickly, after like the 6th night of quarantine I had already begun to stay up late and then I realized that I can actually sleep all day and stay up all night so I kept doing it.
Q: Do you think you're more or less productive and why?
A: I think I'm the same, I get everything done that I need to which is all I do anyway.
Q: So you finish all of your school work?
A: Yes i finish it all, I just do it at night.
Q: Do you still see your family?
A: Yes I see them, they're all working anyways so when they get home is when I get up.
Q: How many meals a night do you eat?
A: I only have one real meal (dinner with my family) then I'll have like one midnight snack. I don't get that hungry which is weird.
Q: Do you do anything besides schoolwork?
A: I usually Facetime a friend every night, I watch TikTok, I have Zoom classes for dance, and I paint.
Q: Would you suggest this lifestyle?
A: Honestly the lifestyle isn't bad until you have to get up at 9:30a.m. for a Google Hangout. I don't recommend it because if we do go back to school I'm in trouble, but it isn't that awful.
Q: Do you think teachers are being  un-accommodating to students who are living the nocturnal lifestyle by having Hangouts in the morning?
A: At first I was a little angry I had to actually get up because if I was actually struggling in school I would force myself to get up and join the Google Meets, but the Meets aren't that bad so I think what they are doing is alright.
There you have it, structure and productivity can still be achieved late into the night. I hope everyone enjoyed this lighter piece, but in all seriousness make sure to continue following social distancing guidelines, and stay safe. Within the next few days we may get some insight on if NYS just peaked for cases, or if it was a false alarm. Stay tuned Eagle Nation!