Flint and O'Brien-Yetto are honored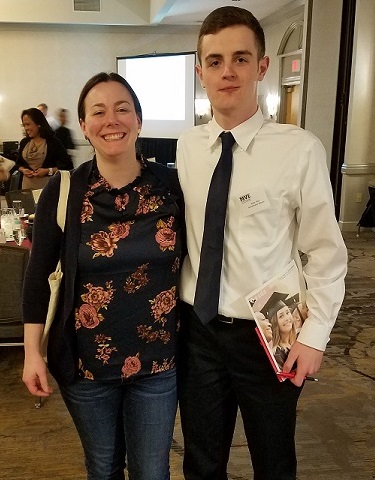 Congratulations to senior Riley Flint, who was selected for to attend the 33rd Annual Capital Region Scholars Recognition Dinner.
According to the CASDA website, "Recognized students are chosen by their schools on the basis of scholarship, leadership, and service to their schools and communities. Each student selects a teacher who has had a significant influence on their education to attend the dinner. The honored students and teachers attended the dinner Thursday the 16th at the Albany Marriott Hotel."
Riley was selected to represent Galway, and he invited English teacher Kelly O'Brien-Yetto to join him for this honor.  The keynote speaker was Schenectady County Community College President Dr. Steady Moono. He spoke about finding your "thread" — embracing your passion and your strength as you choose a career.
Congratulations to Riley and Ms. O'Brien-Yetto!