Varsity Volleyball: Senior Spotlight on Sophia Fasolino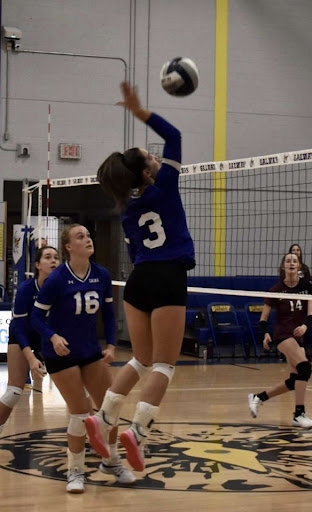 Did you know that there are 11 seniors on the Galway varsity volleyball team?  Sophia Fasolino, Number 3, started in 7th grade playing modified.
On the court you can see her playing setter, right side, defensive specialist or the position known as a libero.
Her favorite sports drink is water with passionfruit liquid IV for hydration.
Her favorite shoe brand is Nike, especially pink Hypercourt volleyball shoes.
Her favorite tournament food is pasta salad. She doesn't play any other sport but her favorite sport to watch is football.
She prefers long sleeve jerseys. 
Her favorite saying is " No one cares; work harder."
She even has a bracelet she wears almost everywhere but the court that has the saying. She explained, "This reminds me that there is always someone one step ahead of you, who's not accepting excuses, not taking days off, and not saying they're tired. Remembering this has largely contributed to my drive and my success on and off the court. I refuse to skip a day at the gym during off season because of this, and have now become an even more motivated person in all aspects of my life, not just on the court."
She has had many people support her volleyball journey but a few people have stood out:"Coach Glenn has left an enormous impression on my volleyball journey. He took a chance on me freshman year and I could not be more grateful. I feel my ambition and drive now are a direct result of his dedication to me as an athlete. He instilled the mindset within me of never being satisfied my freshman year on Varsity. This mindset has helped carry me to where I am today." 
She added, "The younger players of the Galway program have forever changed my outlook on this sport. This summer changed a lot for me. Being able to work with all of you, multiple times a week, and help you progress your skills in such a  period of time is something I will forever be grateful for. This helped me realize one day I would like to coach and help a team reach a championship. I realized I not only play this sport for myself or for my team, but for the younger generations coming up, to inspire, and lead future players to reach heights higher than I have. I will miss this program, and I will miss the winning record, the bus rides after away games, this team, and the coaching staff, but out of all of it the thing I will miss the most is working with all of you."
Though it's only the fall and there is a lot of time left this school year, Sophia will be graduating and moving on. The plans on double majoring in biochemistry and business in college. She says, "I'd like to then attend med-school and complete my residency. I aspire to be a pediatric oncologist and one day open a treatment and research center for young children diagnosed with cancer."