Senior Wills 2022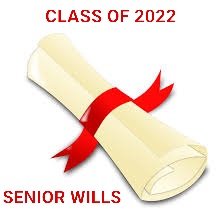 I, Gavriell D. Wenk, leave the following:
To my siblings, Aaron and Talya Wenk, a spot for you will be reserved where my grades and teachers who helped me the most, will guide you to a bright future. 
To Talya, Locker 579 will be left for you (an upcoming freshman) and the amazing memories it had that were eventually scrubbed off, including my name written on the front with black sharpie. 
To my younger friends, let my laugh and voice ring through the hallways as you experience your last year in high school. 
To the underclassmen, keep the cheer team known, your voices loud, and your skills sharp. 
To Mr. Toscano, I leave my brother and his inability to trap a soccer ball and his attitude behind, without me to tame him. Good luck. 
To Mr. Miller, I leave my loud mouth and me walking all over the school to protect my siblings and act as a second mother. Look after them, and take it easy on Aaron, please. 
To Mrs. Mierzwa-Latza, my sister, Talya will fill my place in art classes. Her talent and sweet manners will amaze you, more than mine. 
To the Freshmen and Sophomores, I leave behind the Goodreads assignments Mrs. O'Brien-Yetto assigns and the Spark Notes that helped me pass that class. 
I, Anna Dabrowski, leave the following…
To Molly Oravsky, I leave you your desire to actually lead, not follow. I know you will keep Galway running semi-smoothly. I leave you screaming car rides, weird mannerisms, and endless rants. 
To Mr. J, I leave you the depression corner and the depression workbook, I hope it will provide you daily motivation.
To Mr. D, I leave you my younger brother Ethan, I think you will find that we are similar in the worst ways. I leave you all the hands I did not raise, and all the tangents I led the class off on.
To Mrs. O, I leave you the books we read sophomore year in your class. They are still some of the best books I have ever read, especially for school. Thank you for making your room a safe haven. 
To Coach Glenn, I hope whoever inherits my job as varsity-jumper-who-jumps-with-their-hands-up, is as witty and intelligent as I am. I leave you all of the girls you will probably make cry because volleyball is hard. Molly will continue my legacy of throwing dino on the floor. I leave you old mommy.
To Sara, I leave you EMC, I know that the website I worked so hard on will be safe with you.
To Hailey, I leave you the jazz band saxophone section. Me and Dalton spent five years together in this section starting in 8th grade. Even though every day we would say "I don't want to go to jazz band," it was never totally true. Jazz band was a consistent part of my high school career, and I hope that you embrace it no matter how busy your life becomes. 
To Riya, I leave you the student senate. Know that you will become the bad guy, and that's okay. No one likes a leader, the person who has to say no. No matter what people say, always trust your gut.
To my brother, I leave you the hurdlers. Maybe next year you will beat the girls you race against!
To the engineering essentials fourth period class, I leave you all the laughs and semi-disturbing conversations we have had. I leave you all the failed set-ups, deep conversations, and insults.