I believe in dreams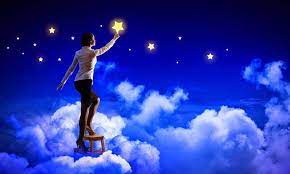 "Dreams are true while they last, and do we not live in dreams?" 
I believe in dreams. This quote from "The Higher Pantheism" by Alfred, Lord Tennyson has inhabited my mind for the last few years. By putting it on the home screen of my phone and the wall of my bedroom, it constantly reminds me that my goals, visions, and wishes are never out of reach. 
While the quote initially inspired me to hold on to the childlike fantasies of magic and wonder that for so long enthralled my thoughts, it evolved to become a mantra by which I live. I have always lived in my imagination, immersed in ideas of what my life could be and the world that I desire. But more recently I decided that dreams aren't just an ideal that can never be achieved, I can decide to consciously stay in my dreams.
I decided that as long as I remain in the dream and hold onto it, it is true.
I know that many of my childhood dreams aren't realistic. I won't be a magical princess or fantastical hero but I can take those same dreams and turn them into my real life. Dreams for my perfect career, the places I hope to see, the changes I wish to make, the life I want to live, are just as real as the ones that existed in my seven year old brain. As long as they exist, they're true.
I believe that when people hold onto their dreams, they can make their desires a reality. Dreaming does not make a person delusional, only devoted.
The quote from Tennyson is originally from a poem about the constant presence of god. The ability to remain in your dreams, however, is something that only an individual can control. I am the only one who can choose to stay in my dreams and make them a reality, no other person can command my dreams.
I think that the consistent presence of this quote in my life, and my belief in dreams, have helped me to succeed. I have always imagined the kind of person I could be and the change that I could bring about in the world, but deciding that I want to live in that dream has made all the difference. 
As long as you have a dream, it's real, this I believe.