XC Season Comparison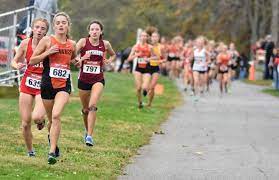 I've been doing cross country for multiple years now.  Last year was a very different season compared to any other season even compared to this season. 
Last year we had a big team compared to this year because there was a very limited amount of sports going on during the fall season last year.  The meets last year were very small that consisted of us and 1 or 2 other schools and no invitationals that are the big meets.  And we could only have a few people go to our meets or we were not allowed to have any people go to our meets and watch. 
But this season was different compared to last year's season.  This year we have a very small team compared to the team of last year.  The meets for this year are bigger with our dual meets with use and 2-3 other schools and along with that we also have invitationals this year.  The invitationals are big meets that consist of 10-15 schools.  And this season we are allowed to have as many people watch our meets because cross country is outside. 
What is still similar to this season and last season is we are not traveling far out to other places compared to other seasons which we have.  And what is different with the practices is we do not have to practice with our masks on this season unlike last season. 
I also asked a couple of my teammates on how this season went compared to last season and they said that this season is different because the races are bigger and we are seeing many different runners that we didn't see last year and we also are not seeing runners that we saw running last.  This is how cross country this year was different compared to last year.