The Boil Shack – Review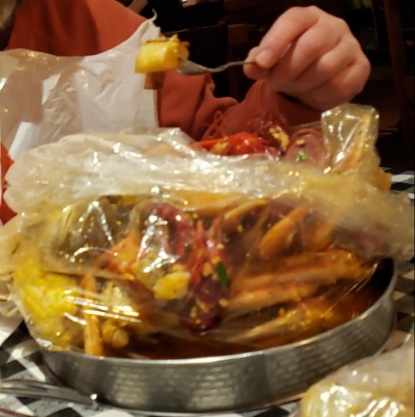 Have you ever been to the Boil Shack? It is located in Albany, NY. It is a cajun- style seafood restaurant. They have so many different fresh catches that you can get. First, you pick what kind of seafood you want. There are lots of different options such as Crayfish, Mussels, Top Neck Clams, Jonah Crab Claws, Snow Crab, and much more. Then, you chose a sauce, whether spicy, zippy, tangy, or an explosion of all the sauces! Lastly, you pick which level of heat/spice you would like. They also have a kid's menu, salads, sandwiches, appetizers, sides, and entrees. There are so many different flavors and texture combos that you can order! 
I would rate the boil shack a 5 out of 5 stars. The food is good and they definitely give you your money's worth. The staff is welcoming and the tables/seating are clean. The covid protocols were safe and up to date.
 I got chicken tenders and onion rings because I am not a huge seafood fan. My dinner was very good and the chicken tenders were excellent. I also tried some of my Mom's seafood and it was tasty! She got a shrimp boil with an explosion of all the sauces. It had some very mild spice to it.
The exterior of the Boil Shack looks like a hotel. It has the doors that spin when you walk through. The interior has high seating tables, booths, low seated tables, and a bar. 
The criteria that a restaurant needs is cleanliness, food cooked well, and polite staff. The Boil Shack did meet the requirements. You should definitely try the food for yourself.