Eagle Nation is full of spirit!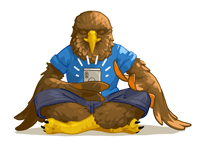 Welcome back Eagle Nation! Student Senate is hosting two upcoming Spirit Weeks.
Monday 9/21 & Tuesday 9/22 – Comfy Cozy Days
Wednesday 9/23 & Thursday 9/24 – Hawaiian Days
Friday 9/25 & Friday 10/2 – Blue and Gold Days
Monday 9/28 & Tuesday 9/29 – Tie Dye Days
Wednesday 9/30 & Thurs. 10/1 – Flannel Days
If you wear Spirit Week apparel, you will receive one point for your homeroom. Each student is responsible for submitting their own points. Points will only be awarded if you wear the corresponding theme on the days you are IN SCHOOL. To submit your points, fill out the Google form link below!
All remote students can also participate by filling out the Google form each day you would technically be in school. If you have a last name A-K, you will submit the form on Mondays, Wednesdays and Fridays. If your last name is L-Z, you will submit on Tuesdays, Thursdays, and Fridays. You can upload photos/videos to Twitter doing any activities you have selected to do.
We will also be hosting a Virtual Pep Rally. There will be many fun activities for you to participate in to gain points for your grade level (along with wearing the appropriate apparel on the appropriate days). Each week, 10 new activities will be posted for you to choose from. From there, you can post them on Twitter use the hashtag #GalwaySpiritWeeks to make sure your points are counted! Students have both weeks to upload videos/photos to Twitter of you completing the activities. By posting to Twitter, you will earn bonus points for your grade. Last names beginning with A-K are Team Gold, and last names beginning with L-Z are Team Blue. If you are on Team Gold you will tag Anna Dabrowski (@Anna41443404) and if you are on Team Blue you will tag Ryan Ripepi (@ryanripepii).
Week 1 Activities
-Headstands: Capture a photo or take a video of yourself doing a headstand for 30 seconds
-Obstacle Course: Create an obstacle course and record yourself completing it
-Balloon Ball: There are endless ways to play with balloons indoors. Try to keep it off the ground or just play catch. Record yourself doing this activity for 20-30 seconds
-Scavenger Hunt: Write up clues and hide them around your house. Kids can race to find each clue for a small prize at the end.
-Hallway Bowling: Fill up water bottles and use any ball you have. Film/capture a photo of you doing this activity
-Pillow Fight: Grab a pillow and a friend and have a pillow fight!
-Hopscotch: Use chalk or tape to make a game on your floor or outside your building. Capture a photo/video of you completing this
-Arm Wrestling: Set up your elbows with another person and get to it!
-Cup Stacking: Get plastic cups and make a tall tower or a pyramid out of them! Record yourself seeing how hugh you can make your towers within 30 seconds.
-Plank War: Find crazy places to plank with another person and see who can hold it longer!
Week 2 Activities
-Jump Rope: Capture a photo or take a video of yourself jump roping for 20 seconds 
-Animal Races: Hop like a bunny or frog; squat and waddle like a duck; and so on. Challenge a friend to see who can get to a certain point faster!
-Dance Party/ Freeze Dance: When the music stops, freeze in your pose and hold it until the music begins again.
-Carnival: Set up carnival games such as "Knock Down the Milk Cans." You can use items such as TupperWare or plastic cups
-Popcorn Pushups: Put a small bowl of popcorn on the floor. Lower yourself down and stick out your tongue to get a piece of popcorn with each pushup
-Corn Husking: Challenge a friend to see who can husk corn faster!
-Dizzy Bat: Grab a bat or a long object and spin 5-10 times, and then run complete a small task
-Candy Sorting: Grab a few different candies and race a friend to see who can sort the candies by color faster!
-Hula Hoop: Record yourself holding a hula hoop spin for 20-30 seconds!
-Transport: Transport (any items) from one spot to another using elbows instead of hands. For a challenge, time you and another person to see who can transport the items faster. 
Spirit Week Participation Forms: Click HERE 
If you have any questions, email Ryan Ripepi, or a Student Senate adviser (Mrs. Dowen, Mrs. Lushkevich or Mr. Kirvin).  Go Team Gold! Go Team Blue!
***THE DEADLINE TO SUBMIT FORMS, PICTURES, AND VIDEOS IS FRIDAY, OCTOBER 2ND at 3PM!!! ***