Thank you and Farewell
My senior year is over and I'm officially done with high school. I never thought I'd hear those words come out of my mouth. Even though the circumstances surrounding this ending were unexpected, I'm incredibly thankful for everything our teachers and administrators did to make our final days so special. Without their unparalleled care and concern for students, none of these culminating memories would have been possible. 
Towards the end of April, Mr. Miller and Ms. Britt arrived at each senior's home and provided us with a lawn sign that read, "Proud Family of a Galway Central School District Senior Class of 2020." Many seniors and their families were happy with this small gesture, but this was just the start. The Boy Scouts dropped off a similar sign and my family and I had a nice "socially distanced" conversation with them as well. It was touching to know they were thinking about us seniors during this trying time. Even though we unfortunately missed our senior baseball season, Kolby, Josh, and I were lucky to be able to meet with Coach K over Google Meet. We discussed a way to say goodbye to the team, which we usually do after the last game of the season. So, each of us seniors shot a video of us catching a baseball, saying some final thoughts to the team, and then throwing the baseball through the screen to the next person. It was a very creative video and the perfect way to bid farewell to a season that never materialized. 
With the help of Mr. Darlington and Mrs. Ostrander, we were still able to continue GTV throughout quarantine! I was elated to learn that we could still run GTV three times a week, because it has been such an integral part of my time at Galway. It was upsetting to think that I may have made my final GTV appearance without even realizing it. So, to then learn we could continue recording and providing the announcements over Google Meet was music to my ears. Ms. O even put together a special broadcast for all the senior anchors where we made final statements and said our tearful goodbyes.
At the end of May, the administration and teachers, with technical help from Mr. Darlington, created an amazing Academic Award Ceremony. Mr. Darlington strung together numerous videos from award presenters in order to form a production released on YouTube for all to see. It was great to hear the kind words from teachers and presenters who still honored the achievements of students during this challenging time. This was an event that many of my classmates and I had been looking forward to, and I am glad we still got to experience it virtually. In some ways, I enjoyed it even more than the traditional ceremony. After the award ceremony, Mr. Miller made yet another trip, this time with our Superintendent, Mrs. Donovan, to deliver the awards to my house. I couldn't believe they took time out of their busy schedules in order to congratulate me. 
In June, our bus drivers made their routes to drop off supplies we had left at the school. My bus driver, Ms. Allison, arrived at my house and gave me all of my work from my Adobe Photoshop class. This was so kind of her to do and it was great to see her again after being apart for so long. 
In order to rescue field day, Coach Hinman and Coach Hayden were able to develop an alternative. We had a Virtual Field Week instead! The teams were split up into blue and gold. Everyone in Coach Hayden's class was on the blue team and everyone in Coach Hinman's class was on the gold team. Rachel Wnuk and I were designated as the blue team captains and Kaylee and Josh were the gold team captains. This was a great way to get everyone in the junior/senior high school involved, and it pushed kids to get some exercise and fresh air. I personally had fun tweeting my water bottle flipping skills for bonus points, even though the blue team lost by a small margin!!!
Throughout our time in quarantine, Mr. Miller continued to meet with the seniors and our families over Google Meet to discuss the milestones we were missing and to develop alternatives. Ms. Leonardo, our amazing advisor, met with the class officers on a weekly basis in order to come up with gifts to give to the school and our fellow seniors. Our administration and teachers made it a priority to celebrate seniors while still following the guidelines of our "new normal."
Before we knew it, we had multiple events ahead of us to look forward to. The first event was the Senior Luncheon where we sat socially distanced in hula hoops on Eagle Landing. Mr. Miller manned the grill and cooked up some mean hot dogs and hamburgers. There was also a station set up with a multitude of pens and sanitizer in order to sign each other's yearbooks while keeping safe. This was a nice time to talk with our friends and we also received some items to remember our past. This included a second grade coloring activity, a Polaroid photo taken from elementary school, a letter we wrote to our future selves in eighth grade, and our eleventh grade English portfolios. 
During this same week, we had a nice meeting on Eagle Landing with Ms. Leonardo for Class Office. She brought us ice cream and gave each of us a gift bag with funny socks, a mug, and some candy. She even personalized my gift bag by giving me two fancy pens. This was very thoughtful of her since she knew I am pursuing journalism. 
As graduation neared, the Baccalaureate usually held at Scotch Church was released on YouTube instead. The students and pastors that planned to speak at this ceremony were recorded ahead of time at the school and put into a big video by Mr. Darlington. There were sermons, songs performed by students, readings, and prayers all included in this inspiring production. 
The school surprised us yet again with a drive-in style movie on the new inflatable screen purchased by the Class of 2020. We all sat in our cars in the student parking lot and watched The Breakfast Club on the big screen. This was a great choice because what the characters struggle with in this movie is heavily relatable to what we are feeling as seniors right now. Ms. Leonardo's car battery died towards the end of the movie, but luckily Russell, Sam, and Brandon were there to save the day!
Next up was a three-part graduation. In the first part, each graduate walked the stage in an individual procession where they were handed their diploma and a plaque by Mr. Miller. Ms. Leonardo also pinned each graduate with a beautiful eagle pin before they walked the stage as well. "Pomp and Circumstance" was played and Mrs. Donovan and Board President Dennis Schaperjahn were in attendance too. We even got to sit in the actual seat we would have sat in at the normal graduation. Ms. Leonardo took a picture of each of us and this is going to be pieced together in a big photo so it looks like we were all in attendance together! While I was at the school, I was also able to check out the digital rotating sign on the front lawn with all the seniors and their plans after high school. It was strange to walk alone, but I also found it to be a unique solo photo opportunity both inside and outside the school. 
The second part of our graduation was the Senior Reverse Parade. This was an event that included the entire community while still maintaining social distancing. Each graduate stood in their cap and gown along the elementary school sidewalk next to their personalized sign and waved to family, friends, teachers, and community members that drove through the parking lot. It was a wonderful opportunity for the community to band together during this time and support the senior class. Each graduate was gifted with a Galway Eagles mask along with a cinch sack containing small goodies, a t-shirt, a water bottle, and personal letters written by teachers and administrators. The Cock 'n Bull also provided every senior with an ice cream sandwich–homemade chocolate cookies with salted caramel ice cream! Mrs. Donovan even gave each senior another eagle pin with a colorful rainbow. 
Our senior class came up with multiple gifts to give to the school. Kaylee and Ruth, both members of Class Office, put their artistic spin on benches that Walter and I made for my Eagle Project. They even included the names of every graduating senior in the class. Ms. Leonardo also ordered a plaque for Mr. Miller's office with every senior's name on it. Hayli Raylinsky put together an amazing collage of all the seniors' formal pictures with our transparent eagle logo on top. This was made into a puzzle and each graduate gave a piece of the puzzle to Mr. Miller at the Senior Reverse Parade. 
The final part of graduation was to celebrate the seniors at a drive-in ceremony at the Ozoner in Broadalbin. Each graduate was allowed up to three cars so that family and friends could enjoy this milestone as well. The car with the graduate had a reserved spot and the production shown at the drive-in was primarily a string of videos put together by Mr. Darlington. He was such a giant part of this special send-off and we could not be more thankful for everything he has done. He recorded Kaylee's Salutatorian and my Valedictorian speech ahead of time at the school, along with Ruth's president speech and Rachel, Aiden, and Morgan's Historian speech and gift presentation. Mr. Miller and Mrs. Donovan were both taped ahead of time as well. Morgan even made her senior video to highlight all the wonderful places our special class will be going next year. At the beginning of the ceremony, Mr. Miller announced each graduate like we were at a WWE match! And at the end, he presented awards and a hilarious blooper reel was played. 
A video from our former teachers, custodians, bus drivers, and coaches was shown that night as well. This video was incredibly touching and included memories and well-wishes for our class. I felt emotional when my kindergarten and first-grade teacher, Mrs. Diblasi, held up our Halloween pictures from so long ago and talked about how big of an impression we made on her. I am grateful to still be friends with many of the kids from Mrs. Diblasi's "Squirrel Class." Overall, this final part of our graduation was an incredible ceremony that brought tears to many eyes. We received our diplomas, flipped our tassels to the left, and officially graduated! 
This unprecedented pandemic may have taken away our Prom, our Senior Trip, and our walk through the school hallways in our caps and gowns. Yet, we didn't let it take away our final memories. With the help of our administrators, teachers, family, friends, community members, and fellow students, we were able to make something so unique and special in a time where we could have lost out on everything. In some ways, we had dedications and celebrations that the seniors before us never got the chance to experience. So, while this graduation was definitely not how I expected it to be, I'd like to say I am honored to be a member of the Coronavirus Class of 2020. I wear my Galway Eagles mask with pride knowing that I have graduated from such a tight-knit place that has given us a solid foundation. 
It is bittersweet that this will be the final article I will write for Eagles Media Center. This club and this website have been a huge part of my identity since seventh grade. EMC has allowed me to explore my creative side and develop my writing and photography skills. It gave me the ability to freely pursue the passion that was always inside of me. And for that, I will be forever grateful. It's not a goodbye. It's a see you later!
Alex Malanoski,
Signing Off
About the Writer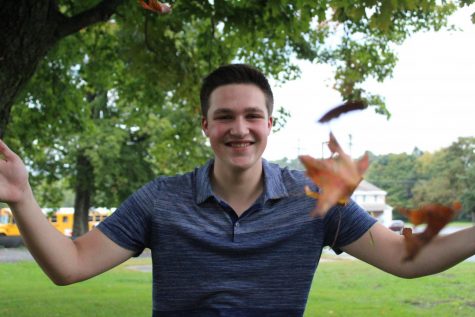 Alex Malanoski, EMC Sr. High Writer
Alex Malanoski is a Senior and loves to sing as well as draw in his free time. He also participates in GTV, and of course EMC. Alex is the treasurer of...