Two Heads are Better Than One
On Saturday, February 15th, Hayli Raylinsky and Vanessa Colangelo held their Portfolio Exhibition at the National Bottle Museum in Ballston Spa. I have attended this show every year, because I enjoy seeing the different ways artists choose to express themselves. Yet, this year was bittersweet as the Seniors were two artists I have worked beside in Ms. Mierzwa's class for years. 
As I walked along the sidewalk to the museum, I saw a glimpse of their talent with two pieces done in watercolor positioned in the display window. Inside, their work was skillfully placed throughout the room. Vanessa and Hayli showcased their versatility in various mediums. These included ceramic tempera, modge podge, photography, digital procreate, digital tayasui sketches, pencil, sculpture, painting, Adobe Illustrator, Adobe Photoshop, marker, and watercolor.
As an artist who primarily uses traditional mediums, the abundance of new digital mediums fascinated me. Hayli and Vanessa had many of their pieces up for sale. Hayli sold her Adobe Photoshop piece, "Me," for $45, and someone is currently interested in buying her piece, "Bubblegum Dreams." Vanessa sold her digital tayasui sketch, "Marceline," for $35. My favorite piece made by Vanessa was her sculpture, "Pink Elephant on Parade" and my favorite piece of Hayli's was her watercolor print, "Friends." 
Both Hayli and Vanessa plan to continue creating artwork during the school year and after they graduate. Hayli wants to pursue a career as a graphic designer, using her clever wit and Photoshop skills to advertise to customers. Vanessa wants to study art therapy, helping others cope through creative expression. Although their high school art career is coming to a close, I can't wait to see what they accomplish in the future.
Thank you to Ms. Mierzwa-Latza for the photos!
About the Writer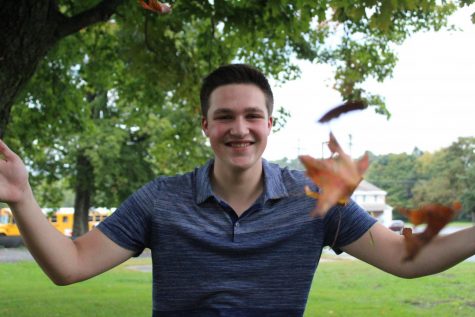 Alex Malanoski, EMC Sr. High Writer
Alex Malanoski is a Senior and loves to sing as well as draw in his free time. He also participates in GTV, and of course EMC. Alex is the treasurer of...