Meet our school nurse–Mrs. Murtlow!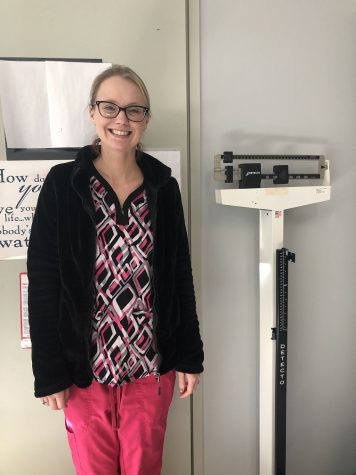 Have you ever met Ms. Murtlow? She is our 7-12th grade nurse. She is 29 years old and went to school here at Galway. She learned how to become a registered nurse at Fulton Montgomery college.  She chose to work at Galway because she attended here as a student. She likes to work with kids and the community. Ms. Murtlow believes getting to know each student is important.
Ms. Murtlow has a 5 year old daughter named Daniella and a husband named John. She was born in Albany and lives in Saratoga. She has a yellow lab named Remmy. 
Her grandfather inspired her. He believed in her and helped her with her studies. Her favorite things are cheese, coffee, and McDonald's. Every so often she and her daughter go to McDonald's and sit in the parking lot and play I- spy. Her daughter also gets to sit in the front.
Her best friend, Caitlin, also a Galway graduate,  lives in Queensbury, with her 3 kids who have playdates with Daniella.
Four words to describe Ms. Murtlow are nice, sweet, kind, and understanding! Ms. Murtlow is a great addition to our school community!