Ready to take comfy cozy to the next level? Check this out!
With Christmas sadly over and the New Year in full swing, I find myself reminiscing about the best gift I received, "The Comfy." Invented by two brothers, the one size fits all blanket/sweatshirt, rose to fame after being backed by Barbara Corcoran on ABC's hit show Shark Tank. 
Lined with luxurious sherpa and covered with fleece on the outside, it's even washing-machine safe. The Comfy also features a giant hood, a humongous front pocket, and stylish, cuffed sleeves. It even comes in a fun-sized variety for kids.
The Comfy comes in many different colors including blue, gray, black, pink, burgundy, purple, blush, red, teal, and cream. The company got into the holiday spirit by including red plaid, santa, elf, and reindeer versions. For a fancy night out, you can purchase the leopard version and you can even show your pride for our country with the "stars and stripes" option. You can even improve your manhunt game by hiding in the green camo variety.
The Comfy serves many different purposes to prove that it's worth its $40 price tag. You can use the large front pocket to store your favorite snacks. The pocket could probably even fit a cat or small dog! The giant, fluffy hood can double as a pillow, and while you sleep in it keeps you from losing any body heat. The Comfy even serves as a form of emotional support. After a long day at school, you can put it on and melt your stress away. As an added bonus, if you wear The Comfy for days, you won't have to do any laundry! However, Please DON'T wear The Comfy while driving as you may fall into a Comfy Coma. Buyer discretion is advised. 
Many of my friends received The Comfy too and they love it just as much as I do. Are you also a part of the Comfy Nation? If so, snap a selfie and send it to be featured on the Eagles Media Center website.
About the Writer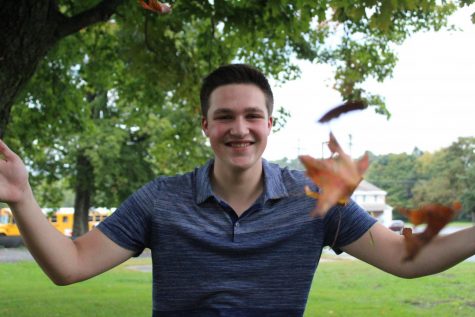 Alex Malanoski, EMC Sr. High Writer
Alex Malanoski is a Senior and loves to sing as well as draw in his free time. He also participates in GTV, and of course EMC. Alex is the treasurer of...