College visits: A Whirlwind
Currently, thousands of high school seniors across the country are filling out tedious applications and essays, pressing that submit button, and anxiously awaiting acceptance letters. But wait… how do you really know what colleges you want to apply to? What's most important to you in a college? High-ranked academic programs? An exciting sports atmosphere? Or close proximity to a Chick-fil-A? Whatever your answer to this question is, the only way you can really know is by visiting the schools you're applying to in order to experience things firsthand.
My first stop was Cornell University in Ithaca, New York, which is about three hours from Galway. I drove to Cornell over February break and stood in awe of the picturesque buildings on campus. For anyone interested in Animal Science, this is an excellent choice, especially with Cornell's student-run farm that practices sustainable agriculture. The only downside is that it doesn't have a Chick-fil-A.
The following day I drove to SUNY ESF located in Syracuse, New York. This school is a great option for those interested in Environmental Conservation and is only two hours from Galway. The campus is located on Syracuse University across the street from the Carrier Dome and students at ESF have the ability to watch Syracuse's Division One teams. There are incredible opportunities to study abroad here, especially for those interested in Environmental Studies and Wildlife Science. In addition, ESF also has a renowned Ranger School.
In July, I visited the University of Maryland, College Park. This is a college that really has it all, including a turtle as a mascot! It's six hours from Galway and has many beautiful, southern brick buildings and green space, along with a unique fountain. Maryland also has Division One athletics teams and is in close proximity to Washington D.C., a great location for those majoring in Journalism and Political Science. Another great feature of the University of Maryland is the farm right in the middle of the campus for Animal Science majors. They even have a program where students can raise service dogs, keeping them in their dorms. Finally, the University of Maryland has a partnership with National Geographic, which is a great opportunity for photographers looking for a hands-on internship.
The following day, I traveled fifteen minutes down the road to American University. This is a great school for anyone, especially those interested in Politics, or Political Journalism and is located in Washington D.C. at the end of the prestigious Embassy Row. I really loved its campus with meticulously kept green space and gardens. This is a slightly smaller school than Maryland, with an undergraduate enrollment of 8,000 students. I attended an American "Preview Day" and met professors from the Journalism department during a panel discussion. I highly recommend attending specialized days at the colleges you're interested in. These sessions provide more detailed information about the major you may want to pursue.
In August, I ventured to Emerson College in Boston, three hours from Galway. This is a unique, creative school perfect for anyone interested in Communications and the Arts. Despite being in the city, it has two green spaces with both the Boston Public Garden and Boston Common across the street. Emerson has beautiful Art Deco buildings that house students and academic programs, along with an incredible theater. For any Red Sox fans, the stadium is right down the street and the TD Garden is nearby to watch Celtics games and concerts. All of these places are easily accessible using the Green Line on the "T" transit system.
In September, I visited New York University, which is also three hours from Galway. This is a great college for anyone that enjoys city living and is comfortable taking the subway. The Manhattan campus is located across the street from Washington Park and NYU has two other campuses located in Abu Dhabi and Shanghai. New York City has a lot of incredible opportunities, along with venues like Madison Square Garden where the New York Knicks play and famous artists perform.
In October, my final stop was Syracuse University. This is another college with a lot to offer. With their top-ranked Division One basketball team, Syracuse has an incredible sports atmosphere. It also has historic old buildings and the famous S.I. Newhouse School of Public Communications. This is one of the top-ranked Journalism schools in the country.
After visiting all these colleges, I decided to apply to Syracuse, American, Emerson, NYU, and the University of Maryland. I also applied to Northeastern University in Boston, which I previously visited with my brother last year. They have a specialized Co-op system which would be very beneficial in gaining connections and future job opportunities.
At this point I'm not sure exactly where I will end up. However, I'm confident any of these schools would be a great fit for me, because they have top-ranked programs for my chosen major of Journalism and are located in large cities with endless job opportunities. However, in the end it's all going to come down to one variable. Money. Even though your dreams may be bigger than your pocketbook, you never know what scholarship money a college may offer, so don't be afraid to reach for the stars.
About the Writer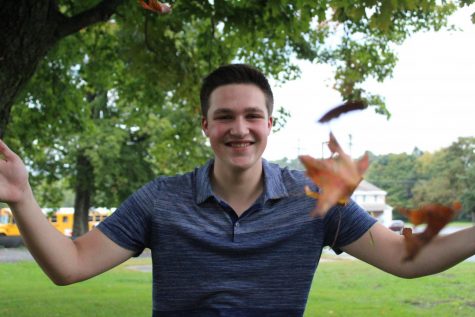 Alex Malanoski, EMC Sr. High Writer
Alex Malanoski is a Senior and loves to sing as well as draw in his free time. He also participates in GTV, and of course EMC. Alex is the treasurer of...