Junior High Happenings: Career Day
Junior High EMC Staff
April 4, 2019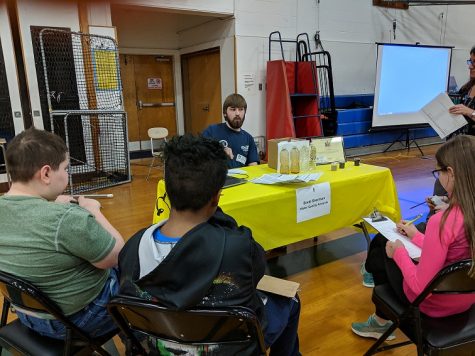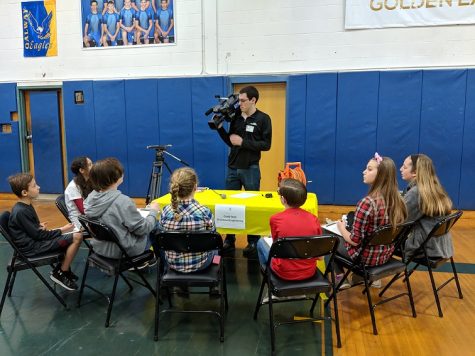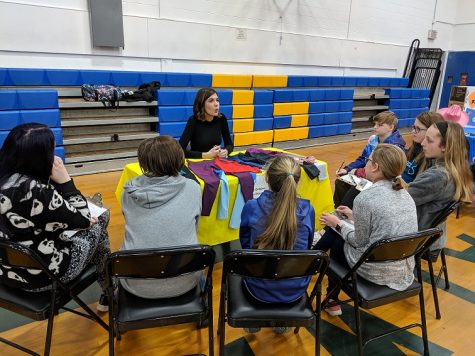 Last Wednesday, March 27th, students in grades 6-8 were able to learn about some new careers after hearing from local broadcaster, Mark Mulholland.
Chris Maher shared his thoughts: 
My top choice was learning about heavy equipment. It was very cool and interesting, especially the size of the machines and all the very cool pictures the presenter took, but it didn't interest me so much that I would like to become a heavy equipment operator or miner in the future.
I would rate the agriculture station my second favorite behind the heavy equipment. Learning about the agriculture was cool but it was kind of what I had expected. The presenter's name was Tegan Mathews, and as I'm writing this I just now realized something. Here is my thinking process: I asked her what made her go into agriculture and she said she was brought up around all different types of plants. She also said she didn't go into animals because where she lived they had no animals only like a farm of crops. Now, she also said her younger brother liked her job a lot but wanted to go into more of an animal job so he's looking at having a job where he checks animals on farms and recommends different grain in different circumstances and stuff. What I'm getting out of this and just realizing is that she (Tegan Mathews) lived on an agriculture farm with many crops and not animals, and I went to the Mathews family farm with my FFA group and picked apples for a fundraiser and there they have all crops, no animals. Also, I know that Eric Mathews owns/lives there and that's his farm. So, they might be related and I might have been to her farm and worked there without even knowing it ha! On a side note, her brother Eric, is also my role model in school and athletics so that's a double haha!
 Well now that I figured that out I want to ask her more questions.
Sara LaCerais said, "I thought Career Day was cool. I liked how there were different job options. I went to clothing design first. It was nice to learn where you could go to college for that field if I had a change in heart and wanted to take the path of designing clothes. I also found it was cool there was a little business in Galway that made clothes.  I can't remember what the career featured at my second staation was called but I know what we did. I learned about plant diseases and what a healthy and unhealthy plant looks like. The main reason I liked it was because I tend to plants at the horse barn. My last station was the nurse. I liked it because I got to dress up like a giant marshmallow. It was actually like I was dressing up for surgery.
I don't know that any of the stations were for careers I would choose to do but it was still interesting to learn about them.
Adrienne Carter agreed with Sara that the day had a lot to offer. Her interest was really sparked by Tegan Matthews' mention of agricultural education options at SUNY Cobleskill because she does have some interest in being a farmer.
Riya Randall was intrigued by water quality analysis. She was pleased with the salary potential and the activity of going and getting samples plus filtering water. She noted they run it through charcoal, then sand and then some activated charcoal. She was surprised to hear they work with baby food companies. Riya appreciated that Brett Sherman was super enthusiastic though he was only running on 3 hours of sleep! 
Natalie Niedhammer wants to be a labor and delivery nurse so she loved Brielle's presentation.  She thought it was cool she got to touch the StormTracker van.
Post your reactions to the keynote speaker and the careers you had the opportunity to explore below!