Senior Interviews
Hang on for a minute...we're trying to find some more stories you might like.
You've seen our videos, now read our Seniors, conducted by Ev Relyea! 
Alright, so what's your name and tell me a bit about yourself?
Okay, so, my name's Siela Zembsch and I love hanging out with friends and listening to music, especially The 1975, and backpacking.
And tell me a little about your involvement in the school.
Um, so I do Impressions, GTV, Student Senate, Class Office, track, soccer, and some other stuff.
And how do you feel about where you're at with senior year so far?
Um, it was really hard actually adjusting to senior year because I went in thinking it would be the easiest year in high school but so far it's been the hardest. But senioritis is also really difficult to deal with. A lot of times I just deny there's actually a test in a class that I have to study for, but it's also kind of a blessing because you can just wear like sweatpants all day and not really worry about what people are going to think of you.
And what are you planning to do in the future?
So right now I've applied to some schools on the west coast and some schools on the east coast and I want to study marine biology or writing and hopefully get a job as a journalist, a marine biologist, or both.
What are you most excited about for college?
I think just more freedom and being able to take classes that you're really interested in instead of filling your schedule with stuff that you just have to fill. Um, and meeting a lot of cool people.
If there was anything you could redo about your high school career, what would it be?
I would definitely sign up for less clubs because I'd rather dedicate myself to a few and be really involved in them instead of trying to spread myself too thin over a lot and I'd probably try to open up more too.
Any advice you'd give an incoming freshman?
Don't join too many clubs.
Alright, Siela Zembsch. Thank you so much!

About the Writer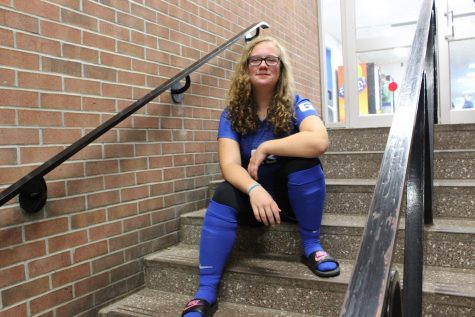 Evelyn Relyea, EMC Sr. High Writer
I am currently a senior at Galway. This is my second year as a writer on EMC. Besides EMC, I'm involved in NHS, Drama Club, Chambers, Impressions, Basketball,...