Piebald Deer Sighting Near Galway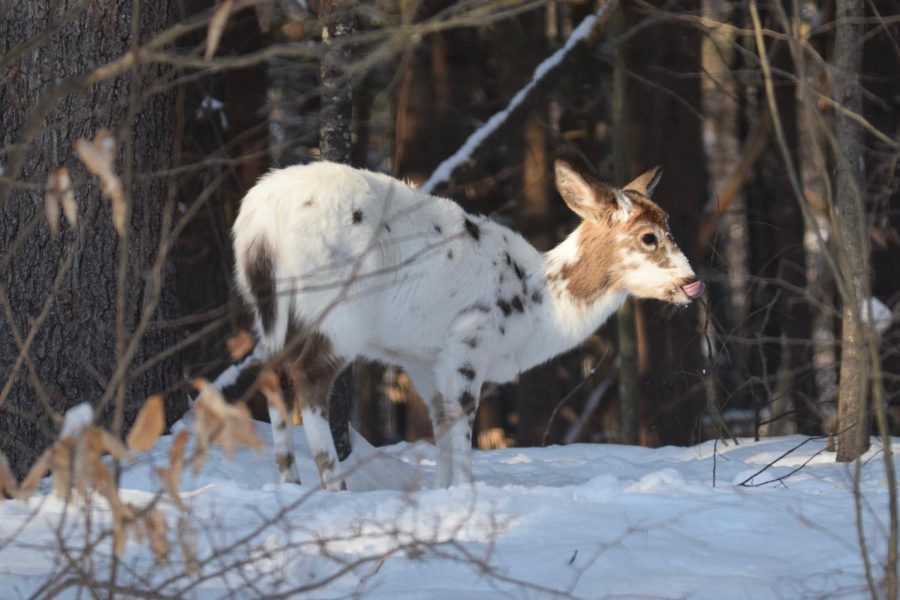 Another wild visitor arrived in my backyard last week and this time it was a very rare sighting. As I was peering out the window in my kitchen, I saw some deer standing on our hill, which was not unusual since deer have passed by many times before. However, this time I noticed a deer that looked far different from the rest. After a closer look, I was able to infer that this was a piebald deer. It was amazing to watch as this deer rubbed noses with a normal white-tailed deer. I was able to snap some pictures of it with my camera through a closed window without a screen that my mom uses to feed the birds.
After doing some research, I found out that piebaldism is caused by a genetic abnormality and is a rare condition, since both parents need to carry the recessive trait for the offspring to be piebald. In fact, this condition affects less than 2% of the white-tailed deer population. These deer are different from normal white-tails, because they have patches of white across their body. Piebald deer come in a wide range of colorations and variations and usually have short legs, an overbite, an arched spine, and organ deformities. Therefore, piebald deer have a hard time surviving to adulthood in the wild.
It is incredible how many different animals have passed through my backyard this winter and this may be due to harsh environmental conditions. I have had the opportunity to spot a barred owl, a pileated woodpecker, multiple male turkeys, and now this piebald deer. I am hoping to see a fox or even a bear in the future. Mother nature has provided me with the opportunity to view all of these amazing animals in their natural habitats. I am just glad I was able to grab my camera, snap a few shots, and capture these amazing moments in time.
About the Writer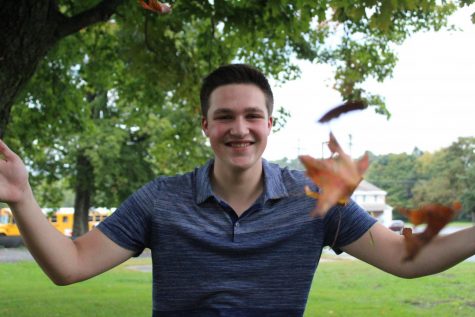 Alex Malanoski, EMC Sr. High Writer
Alex Malanoski is a Senior and loves to sing as well as draw in his free time. He also participates in GTV, and of course EMC. Alex is the treasurer of...