Team 18310B: Galway's 8th Grade Robotics Team
The 2018-2019 vex robotics competition challenged Galway's 8th grade robotic teams.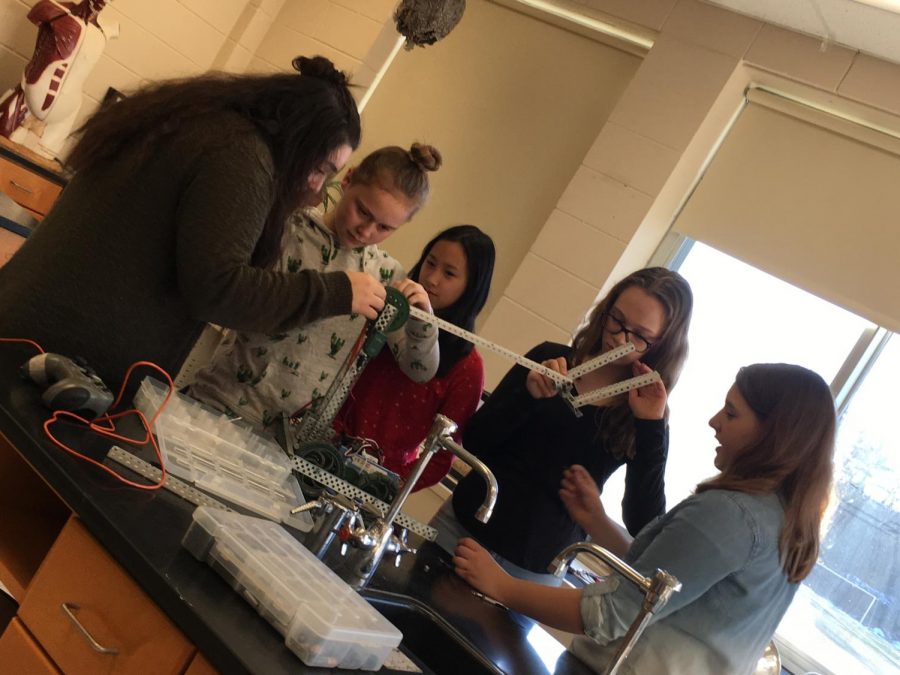 Sara Conti, EMC Jr. High Staff Writer
March 1, 2019
On Saturday, January 26th, Galway's three  robotics teams  attended Lansingburgh's Bots take Burgh tournament.  They arrived at school at 5:30 in the morning to load a small bus with their robots, engineering notebooks, and supplies for last minute details to be added before there first match of the day. All three teams had big plans for the hour or so time period before there robots were inspected. The eighth grade team had to write all of their code and the other two teams also had last minute details to add to there bots before they compete.  Ryan Lovelass was very helpful in coding the eight grade robot, because the eighth grade team is not as  experienced with coding as he is. The time passed quickly, and the eighth grade team began to struggle to pass their inspection. To add to the inspection trouble, the  eighth grade team was supposed to compete in the first match of the qualifying rounds. With the help of Mr. Tripp, the team was able to pass inspection after much running, and testing both the coding and wiring.  Despite not being able to move off the starting tile for half of their matches, the eighth grade team ended up in 8th place out of the 50 schools that attended. This caused the eighth grade team to continue past qualifiers and  compete in the elimination rounds. The team chose the high school team as their alliance. The alliance got out on the first round. The three teams continued to improve their robots and codes until their next tournament on February 9th. The second tournament, this time in Queensbury, came up quickly. The teams were much more prepared this time around and the eighth grade team was inspected well before their first match. By the last match of the day, the eighth grade team was in 24th place. Competing in the playoffs was highly unlikely, but still possible. Amazingly, the team  was selected to compete in the elimination rounds choosing the high school team, once again,as their alliance. Both teams were defeated in that round, which ended with both bots tipped over.   They scored two points, but they were against teams who had made it all the way to world qualifiers in past competitions.   Overall the robotics teams had a successful season, which is sadly now over. The teams will meet again in the spring when next years competition is announced.