Book Review: They Both Die in the End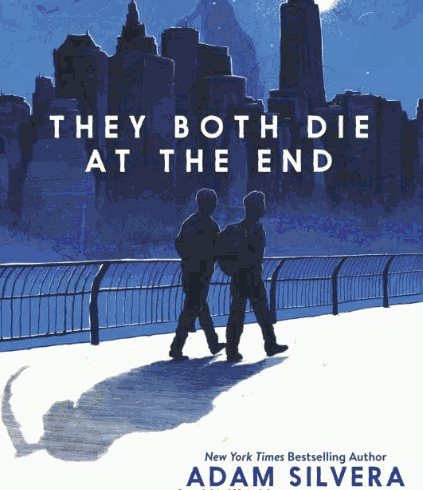 They Both Die At The End by Adam Silvera is one of the best books I have ever read in a long while. This book had so much emotion, so much suspense, and so much love in it that it will break your heart and leave you wanting more. Adam Silvera reminds us that there is no life without death–there's no love without loss. It reminds us that we should always live everyday like it's our last, and you should take the most out of it and do what makes you happy.
On September 5th, a little after midnight, Death-Cast calls two young boys, Mateo Torrez and Rufus Emeterio to give them some bad news. They're going to die today. In this book, Death-Cast is a phone service that alerts you when you're time is up, telling you to live your life to the fullest. You have up to 24 hours to live, possibly even less. Mateo Torrez lived in a small apartment building alone, reading books or being online, staying up late at night. Rufus Emeterio lives in an orphanage with other teens, always going out. These two young teens who are so different from each other in many ways meet on an app called 'Last-Friend' where you spend your last few hours on this Earth with someone who is also dying that day, or someone who just wants to help make someone's last days the best one. These two end up going out and exploring the world around them as much as they can. Mateo is so scared that each step he takes could be his last, that anything can happen and he could just suddenly die. Rufus helps him conquer this fear of his and on the way, he also conquers something of his own. They both help each other live life to the fullest till their very last breath.
There are no words that can truly describe the emotions I have felt over this book. I cried for hours over the ending and the love these boys have for each other and how much they wished they had more time, that they should have met each other sooner. It broke my heart when they imagined the life they could've lived together, how happy they would've been. I tried reading this beautiful book again and I just couldn't as I started to tear up just by the first couple of lines I read. I really wish there could be another book just about these two teens where they end up surviving and living a life, having something that they couldn't have gotten then.
I congratulate Adam Silvera for making this wonderful, emotional book. He's able to put so much strong emotions into just a couple of words and that's a wonderful talent to have.