Galway Codes: A Night of Robots, Learning, and Code
Sara Conti, EMC Jr. High Staff Writer
December 22, 2018
On Wednesday, November 5th, many students and their families came to the high school library and cafeteria to celebrate computer science week. The hour of code night was part of a celebration of National Computer Science Week. Galway´s celebration also included  computer science facts everyday on GTV and games posted on many google classroom pages.  This event was for both the high school and the elementary school.  There were raffles, coding games, and breakout boxes in the library. In the cafeteria, students were able to control Sphero bots with i pads. There was an obstacle course to drive the tiny spherical robots through, but many students decided to freely drive the robots around the cafeteria instead.  There was also a table with drones, that were piloted with help from Mr.Tripp.  Tyler Sowle, Erik Reekie-Davis, Spencer  Newsom, and Abby Gullet are just a few students that attended the event. Spencer said that the she enjoyed the event.  The robotics teams showed off their robots for the first time and hosted a bake sale that resumed the next day at lunch.
There are three different Robotics teams in Galway. There is a Sr. High team, an eighth grade team and a seventh grade team. All three teams are working hard too complete their hopefully successful robots. The eighth grade team is focusing on building a claw to flip caps (the discs featured in the slideshow), while both the seventh grade and Sr. high teams are working on flywheel systems to launch  balls at flags. All three teams are working very hard to complete their robots because there first competition is coming up in January.
About the Writer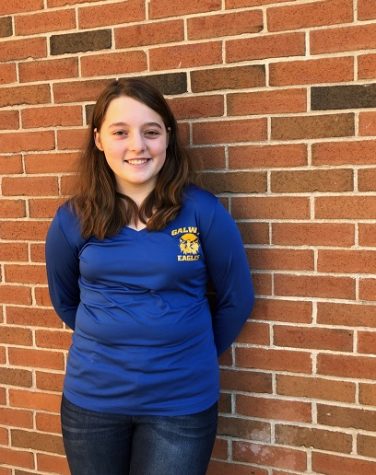 Sara Conti, EMC Sr. High Staff Writer
Sara Conti is a freshman this year.  Her favorite sport is volleyball. She likes doing robotics and writing for EMC.  She likes watching Wonder and...