America's Got Talent auditions
Is a resident of Eagle Nation going to wow the AGT judges?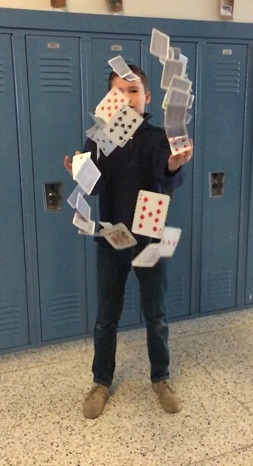 Hang on for a minute...we're trying to find some more stories you might like.
Seventh grader Van Horvath has tried out to be on America's Got Talent. He hasn't found out if he is actually on the show but I asked a few questions to see how auditions went.
Q: What did you do?
A: I did Magic Tricks (which I always do at the talent show).
Q: When did you audition?
A: I auditioned  December 17th
Q: Where did you audition and how many people were there?
A: I auditioned in New York City (there are multiple locations in which you can try out) and there were over 1,000 people there.
Q: What acts did you see people doing?
A: I saw comedians, girls twirling batons, and a lot of singers.  My mom's friend's daughter sang "One Day."
Q: Why do you think you could get in doing Magic Tricks?
A: I think I could get in because there aren't many Magicians.
Q: When do you find out if you are on the show?
A: I will find out in Mid-March. If I get in I will get an e-mail and a letter.  If I don't get in, I won't hear anything!
So, Galway, yell "Presto!" and think positively that Van will get a call and/or email.  No news isn't good news!  Van is pretty chill about it though.  He said even if he doesn't get a call back, it was a great experience.