Galway's Sensory Room
Hang on for a minute...we're trying to find some more stories you might like.
Look around, do you see a light nearby? Stare straight into the bulb. Keep looking. Now look back at your screen and try to read the words. Difficult right? Are you listening to music? Maybe you're in a crowded room. Imagine turning up the background noise of your environment a couple decibels. Now imagine trying to continue to focus and read this. Odds are it is much more challenging. That is because your sensory input is interfering with your mind function and inhibiting your focus. This for you was just a brief experiment, however for children with sensory processing disorder or autism, life can feel this way at all times. Certain conditions can cause people to experience sensory overload, where the sensory inputs are so heightened or overwhelming that it is difficult for one to focus or retain information. For children with these conditions in a school setting, it is virtually impossible for them to focus or learn without frequent breaks. That is where the elementary school's recently installed sensory room comes in.
This room was installed specifically for the purpose of calming students whose senses become overwhelmed in a typical classroom environment. It has a variety of of features including a swing students can lay in to relax and a tube of circulating water that changes colors which students can watch to calm their minds. In addition, there are texture pads that play different noises and even a giant stretchable sock that a student can pull their entire body into.
My personal favorite feature was the "jellyfish." This was in a padded corner of the room and was suspended from the ceiling. Beads of light were strung down to the ground and changed color intermittently. When lying underneath these lights, one could look up and see their reflection in a mirror fixed to the top of the installment. It was simply beautiful and very relaxing. It is easy to see how devices like this could calm someone experiencing sensory overload and help them to continue with their studies.
Students with autism and other disorders that cause heightened senses are immediately placed at a disadvantage in the classroom as their disabilities can inhibit them from participating in regular classroom activities to their full abilities. New additions in our school such as this sensory room are a step in the right direction as Galway works to give the best possible education to all students.

About the Writer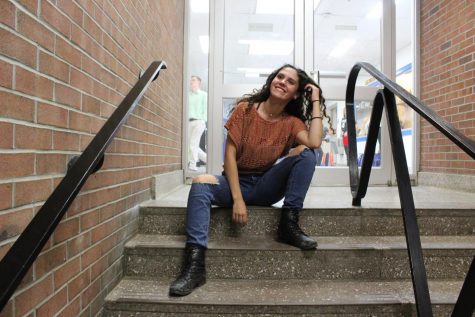 Hannah Thompson, EMC Sr. High Writer and GTV Director
Hannah Thompson is a 12th grader here at Galway. She's been a member of EMC for three years, and she's a member of a lot of clubs, like the Impressions...