Wattpad's Latest: Finding Everett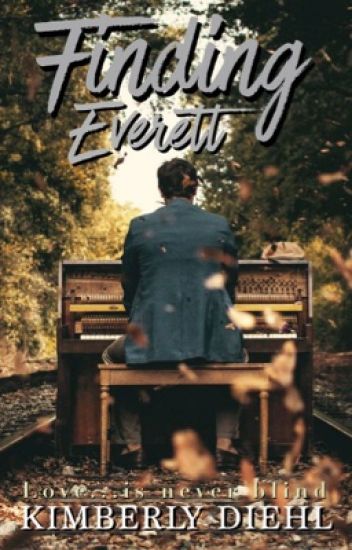 This week, I am reviewing the teen fiction novel, Finding Everett, written by Kimberly Diehl (@KimberlyWritesBooks). Finding Everett follows teenager Everett North, a piano prodigy with a very unique attribute: he has been blind since he was eight years old, when a tragic science class accident robbed him of his sight. This book had an effect on my life because I learned that I am very fortunate compared to other people in the world. Finding Everett taught me that I should never take anything for granted, including a human sense.
Finding Everett opens with sixteen year old Everett North sitting on his bed, reminiscing about the effects of his blindness on his family. He feels guilty because his condition made him the center of attention from his parents literally all the time, which created tension with his two brothers, Jeffrey and Jesse. Now that Everett has a baby brother, Cole, attention is somewhat divided, but Everett still feels ashamed because of his blindness. After all, his disability sent him into an alternate school for teenagers with disabilities. When Everett lost his ability to see and became entirely dependent on his family members, he felt guilty and embarrassed. While other kids his age were maturing and becoming more independent, he was stuck needing help with the seemingly simplest tasks of everyday life. Fortunately, Everett found a saving grace in his piano. He would spend every free minute after school practicing and memorizing notes. The piano helped to keep Everett sane, as it gave him a slight sense of independence from his injury.
Enter Lizzie, a new student in Jesse's art class. She's smart, witty, and sarcastic. Lizzie and Everett meet when Jesse brings her home to work on a project for class. Everett was extremely reluctant to meet her at first. He usually does not like when people other than family come over to the house. However, Lizzie comes into the North home with such a grace and kindness that she is able to become a friend to Everett, something he felt he lost along with his ability to see.
As time passes, Lizzie becomes just as present in the North home as Everett or Jesse. Her friendliness towards Everett helps him to come out of his shell and smile a little bit more. Lizzie is somebody that is refreshing to Everett because she is not on her tiptoes all the time around him. Most people when they meet Everett are forced with their conversation, careful not to say or do anything that could come off as rude or offensive due to his blindness. Lizzie is different because she speaks to Everett like she is speaking to any other person, just normally. Through their bond that grows every day and a trip to New York City, Everett and Lizzie become extremely close friends.
My favorite part about Finding Everett is the friendship that Everett and Lizzie form. Like many of the other books I have read, their bond really steals the show. Everett and Lizzie's friendship teaches readers that even though someone may not be your cup of tea at first, that person may grow into somebody that you need to have a better life. After all, Lizzie's persistence when it came to breaking down the walls Everett built around himself eventually brought him out of a mental rut, allowing him to see the good that he still had in life.
I would recommend Finding Everett to the reader that is looking for a heartwarming tale of an ambitious girl and her friendship with a boy that could really use someone outside of his family around. This book shows the power of friendship and how simply having one true friend can make all the difference in somebody's life.
If you want to check out Finding Everett for yourself, use the link below:
https://www.wattpad.com/story/15607119-finding-everett-%E2%9C%94%EF%B8%8F
Thank you for reading! Be sure to leave a comment below telling me what you think. Also, if you have any suggestions for Wattpad novels that I should review next, let me know!