Touring the State Capitol
Riley Flint, EMC Political Correspondent
October 31, 2017
Hang on for a minute...we're trying to find some more stories you might like.
Recently I had the enormous honor to tour the NYS state capitol with Senator Jim Tedisco recently. Anyone that has met me knows that I have an immense passion for history, politics, and law. After meeting Senator Jim Tedisco at a local Galway GOP fundraiser and conversing with him on pressing issues that face this state, he invited me down to Capitol and offered to give me a tour of the State Senate chamber.
Earlier this summer I visited the Capitol with my uncle who works at the Assembly. Both this visit and the one over the summer took place when the New York State Legislature was out of session. I met up with Senator Tedisco at his legislative office and he introduced me to his staff of political advisers. He then took me on a tour of the NYS Senate chamber. The NYS Senate chamber is one of the most elaborate chambers in the nation; the entire ceiling being covered in thousands of 24 karat gold leaves! Under NY state law, even when the legislature is not in session, a member of the majority party in the Senate has to preside over the Senate and declare a "recess." This parliamentary formality is put in place so that the Governor of NY cannot do whatever he or she wants to legislatively.
Senator Tedisco showed me the offices of the Secretary of the Senate, who is the constitutional and rules officer of the Senate. The Senator allowed me to stand up on the podium where the President of the Senate presides. He then showed me his Senate seat and allowed me to sit in it. The Senator later allowed for me to tour the Senate majority offices, which are far superior to those of the minority!
During my trip, I had detailed discussions with my representative in the Senate about the gravity of the upcoming vote on the Constitutional Convention, the State of the State Address, and state budgets. He conversed with me about incorporating  education, hard work and determination in every aspect of our lives to become more active and successful citizens.
I learned about the history of New York State. Fun fact: four US presidents were governors from New York: Martin Van Buren, Grover Cleveland, Teddy Roosevelt, and Franklin Roosevelt (and hopefully not the current one!). All of whom walked through the great halls of the NYS Capitol as I did. Over the next vacation or when the NYS legislature is in session, I implore you to visit New York State's beautiful Capitol!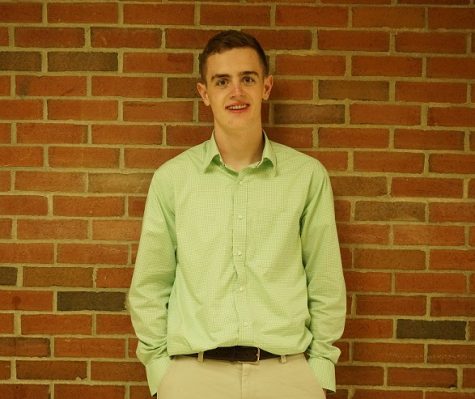 Riley Flint, EMC Sr. High Writer
Riley Flint is in 12th grade and is known for being the President of Class of 2019, President of Student Senate, a member of Chamber Singers, GTV, and...