New on Wattpad: Recreating Kasey Taylor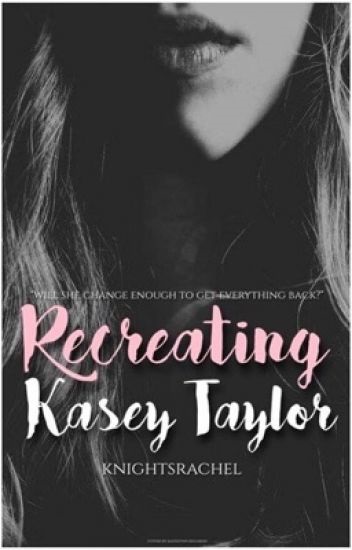 This week, I'm reviewing the coming-of-age teen fiction novel Recreating Kasey Taylor by @knightsrachel. Recreating Kasey Taylor is about a teenage cheerleader in need of an attitude adjustment and the unknowing football player who just may be the person the cheerleader needs.
Kasey Taylor is a Senior Elite Cheerleader, and has been cheering competitively since she could walk. Being a Senior Elite is a huge honor, and making the squad takes a tremendous amount of time, hard work, and dedication. Kasey is one of the best cheerleaders on the team and she has the attitude to go with it. But when Daniel Lyons comes to town for the latest season of fall tryouts, the new coach makes many changes to the team, including cutting Kasey from it. Kasey finds that the only way she can hope for a spot back on the team is a complete attitude change.
The story opens up with Kasey and her best friend, Sadie, walking into the first day of tryouts for the Senior Elites. When tryouts are over, Kasey sees that she was cut from the team. She confronts Coach Daniel about it, and he simply tells her to try out again for the spring season, but not before he hints at his dislike of her attitude. Kasey looks around at her only option: to join the Rockledge Cougars, a cheerleading squad Kasey has dubbed as the worst team in the school, thus nicknaming them the "Losers." Because of Kasey's reputation, the Cougars are reluctant to let her join their squad, especially Missy Jenkins, the team captain.
One of the biggest traditions for the Rockledge Cougars is to be a companion to a football player. Each football player draws a cheerleader's name out of a hat, and first-string quarterback Andrew Thornton was lucky enough to draw Kasey's name. Andrew is special because he is a part of two different high school groups. He is a jock and a nerd.
Despite the fact that Kasey would rather do anything but be Andrew's cheerleader, he gives her a proposition she cannot refuse: if she can babysit Andrew's younger sister, Anna, after football practice so he can finish his homework and keep his grades up, he will help her earn her spot back on the Senior Elites by giving her an attitude adjustment.
Even though Kasey is reluctant to start her partnership with Andrew, she knows that if she does not cooperate, she will be kicked off of the Cougars squad too. Over time, Kasey and Andrew become close friends. After all, they spend almost every day together after school. As the book goes on, secrets are revealed and problems arise, but for the sake of their respective sports careers, both Kasey and Andrew work to overcome any bumps in the road.
One of my favorite parts of this book was the relationship between Kasey and Andrew. Their friendship never became romantic, and I have respect for the author because of that. I think that too many novels like Recreating Kasey Taylor have the main characters develop a romantic relationship, but Kasey and Andrew never did. I also believe that their relationship as the two main characters was stronger as a platonic relationship rather than romantic.
I recommend Recreating Kasey Taylor to the reader looking for a coming-of-age novel with little to no romance, where the two main characters do not get into a romantic relationship by the end of the novel. I began to read this story because I was in the mood for something a little different, and I had just finished another book by the same author that blew me away! Recreating Kasey Taylor is a very rare example of a book that is not all about self-improvement, but still causes the reader to step back and think about their daily actions and how they may affect others. This story has made me more open-minded and self-reflective as a person, and I think everyone should be more conscientious of their everyday actions. If you want to check out Recreating Kasey Taylor, the link is below.
This is my last review for the school year. Have a great summer, and be sure to come back to EMC in September to read all our post-vacation articles!
Link: https://www.wattpad.com/story/14287954-recreating-kasey-taylor