14 days. 45 tweens. 4 leaders. One amazing trip abroad!
Bonjour!  Cheerio!  I am Rachel Germain, a 7th grader, and I went on a big trip half-way around the world. My trip was called "Tale of 2 Cities" and the two cities were London, England and Paris, France. It was a long 14 days, but very educational and fun. In Paris, I saw the Eiffel Tower, the Notre Dame Cathedral, the Gardens of Versailles, The Louvre Museum, the Arc de Triomphe, and walked along Omaha Beach in Normandy. It was extraordinary.
After France we took an overnight ferry to London and the second half of my trip began. In London, I went to a changing of the guards ceremony at Buckingham Palace. So cool! Then I went on the London Eye (the world's largest ferris wheel). We went to Warwick Castle and I got to practice sword fighting and we saw the largest trebuchet ever. And, I went to see Stonehenge. We also went to the London Bridge and saw the Crown Jewels. And I can't forget to mention that I went to Euro Disney (also known as Disneyland) in Paris.  We rode Space Mountain: Mission 2.  We were able to travel independently as a group.  We were able to convince a girl who had never gone on a roller coaster to actually go on and she wanted to go a second time.  So fun.  And it went by so fast.  Much like my trip.
Here are some questions you should ask yourself if you're considering embarking on such a journey or wondering if you have the spunk…
Do you like to try new foods?
I had the opportunity to try frog legs and escargot (snail) yet I was chicken to eat them. The escargot had green veggie mush in the shell and the frog legs tasted like chicken(which is what my friends said) but the texture was slimy.
Are you organized?
Every two days/nights, we switched hotels and roommates. I had to keep track of my belongings and no, I didn't lose anything.
Can you handle severe homesickness?
After a week into my trip, I got very homesick; everyone did. I cried so much–even in the shower.
How important is it for you to make friends?
As a result of traveling together, I have 44 new friends that I keep in touch with on Instagram.
Can you deal with problems?
I had to deal with a stomach bug that went around half the group. Luckily I didn't get it.  Also, a peer sprained his ankle on the adventure course.  When things are going well and there's a lot of fun happening, you have to be prepared for something to threaten it.  Help one another and move on!
Can you handle money?
Budget your money–I spent all of mine in Paris (my first week).
Can you handle instant bonding?
I became twins with a girl named Charlotte because I bought almost the same hat as her.
Can you sleep on a bus?
I learned how because I needed to. I was sleep deprived.  We went to bed at midnight and got up at 6:00 a.m.
Do you always need a camera?
Take mental snapshots; my camera almost died over there.
Are you  brave and like to try new things?
I almost used a bathroom on the side of the street.  You went in, used the facility, then came out and it automatically cleaned itself.  I didn't use that bathroom, don't regret not using it but think people should investigate new things.
Are you claustrophobic or do you dread stairs?
In one hotel you had the choice of either taking A LOT of time walking up A LOT of stairs or taking a REALLY small elevator that could ONLY fit a person and his/her luggage.  Everyone wanted to use it!
Last year, I was a girl learning about other places and cultures in social studies class.  Now I have actually been there and I feel more competent as a leader and ready to take on responsibility. The most helpful thing I learned is that your parents are not going to be there by your side every second of every day helping you. I also learned that you need to face your problems, not run away from them, like I did at the muddy adventure course. One last thing that I learned that I benefited from is that people will come and go in your life and when they come to you and ask, "Do you need help?", say yes!  Otherwise they will leave, and you won't know what to do.
"
Oh and by the way, if you wondered how I found out about this opportunity, I got a letter. Yes, a letter. My trip was hosted by a group called People to People (P2P). Fun fact–it was started in 1956 by Dwight D. Eisenhower. "
— Rachel Germain
View Comments (5)
About the Contributor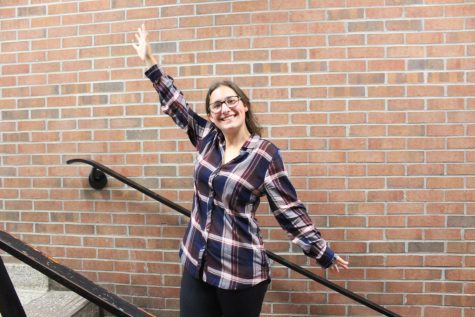 Rachel Germain, Sr. High Staff Writer
Rachel Germain is an 11th grader. She is a Girl Scout and has been since Kindergarten. She loves to dance and has been dancing in the Galway PTSA Dance...