Worcester watched it…The Hobbit: Part 2
"If this is to end in fire, then we shall burn together."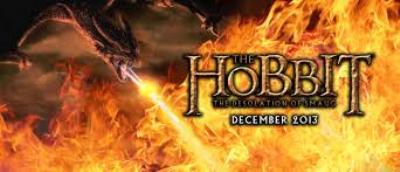 So, the Hobbit Part 2, how was it? Fantastic. Wow. I saw this movie on an IMAX screen and let me tell you, it was a sight to see. I'm getting ahead of myself. The Hobbit: The Desolation of Smaug is the second part of the trilogy based on The Hobbit by J.R.R Tolkien. I thought the first part was okay. There were a couple problems but I enjoyed it immensely. THIS movie was SPECTACULAR. Many people accuse the first film of having a very slow pace. This movie, however, has a very brisk pace–quickly moving along from one thing to another. Now one of my worries going in was that Legolas being in this movie would distract from the main story. It didn't really. Legolas was actually pretty awesome in the action scenes he was in. I also really liked Evangeline Lily as Tauriel.
Of course no movie is without problems, but this movie has very few problems. So I will make this quick. First problem, early on, there is a scene that involves a river and barrels. I won't give anymore away but in the scene there were a couple of shots that were clearly done with a waterproof camera that didn't have the same resolution as the ones used to film the rest of the movie. Second problem, Gandalf's secondary storyline, for now anyways, is bothering me a bit. It seems like it may play a part in what happens in the third installment, but for now it really seems like something that should have been left to the Extended Edition. Especially considering that if you haven't seen Lord of the Rings ,you will not care at all about this story.
But enough of the bad, what was good? Everything else. Martin Freeman was excellent as Bilbo. Richard Armitage was fantastic as Thorin. The whole cast knocked it out of the park. But the real show stopper was BENEDICT CUMBERBATCH. He not only voiced Smaug the dragon, but he did motion capture for the dragon as well. Motion capture is when an actor will wear a suit, be filmed, and computer animators will use the actor's movements as a basis for the character. That is how they did Gollum as well. Anyways, the performance was very chilling and no doubt the highlight of the film.
All in all the movie was amazing 9.5/10.
About the Writer
Chris Worcester, Staff Writer
Chris is a sophomore who likes sharing his opinions. He feels journalism is valuable because it keeps people informed and EMC is important because it keeps...