Avoid the peril: A PSA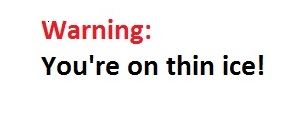 Hang on for a minute...we're trying to find some more stories you might like.
As you might have known, winter is coming to a close. That could be good or bad for many people. And for ice fishermen and women it is the worst. The ice this time of the year is very unpredictable. Earlier in the year the ice was fine almost where ever you you went. But the good times are over and we must wait until next ice fishing season. Or until spring trout. Especially if you are on a vehicle. I have seen first hand how dangerous the ice is on Sacandaga Lake. I have seen the lake eat up 4 wheelers and multiple side by sides in a short span of time. The moral of the story is to stay off the lake. Stay safe, Eagle Nation.