Job shadowing brings new insights
Does a senior in high school really know what they want to do for the rest of their life? If you don't know like me, it's a good idea to explore your options. This definitely applies to my current search for a college major and career path. I have many interests scattered amongst different majors. I am drawn toward veterinary medicine due to my love of animals and science. However, I still can't ignore my passion for writing, photography, public speaking, and current events. Since I am undecided, I knew I needed to experience both of these potential career fields. How would I do this? The answer… job shadowing. 
I started my summer by shadowing at Adirondack Veterinary Clinic where I have a friend who works as a veterinary technician. I met with one of the veterinarians, Maribeth Wallingford, to tour the clinic. After the tour, I needed to purchase a pair of blue scrubs for my first day. I shadowed a total of four times at the vet clinic in order to understand all of the daily ins and outs of this profession. I learned that multiple people are needed at the front desk to keep track of important files and greet the animals and their owners. Once a pet is checked in, their file is brought to a vet tech who reviews it. 
I accompanied the vet techs for these appointments to see what their job entailed. The vet tech greeted the owner and proceeded to weigh the animal on its respective scale. Information is recorded on their eating, drinking, and bathroom habits. Past medical issues are also addressed at this time. The owner is asked to describe any new problems their pet is currently experiencing. The temperatures of "cooperative" animals are taken and vet techs administer preventative vaccinations, along with testing for diseases by drawing blood. Blood is often placed into a centrifuge where it is separated in order to identify certain diseases. In addition, vet techs cut the nails of dogs and cats, fill prescription bottles, and thoroughly sterilize examination rooms between appointments. Once these tasks are completed, the veterinarian will enter the exam room to offer their medical knowledge and answer any remaining questions an owner may have, along with recommending treatment options. At Adirondack Veterinary Clinic, there is also a specialized vet that comes in weekly to perform necessary surgeries. 
My experience at Adirondack Veterinary Clinic allowed me to fully understand the daily jobs of both veterinarians and vet techs. I now have an understanding of all the people and resources necessary to keep a clinic running smoothly. I am still interested in possibly pursuing a career in veterinary medicine, because I would get to work in an ever-changing environment. You never know what type of animal with what type of illness or injury is going to walk through the door, so you have to be prepared at all times. Keeping animals happy and healthy every day would be a very rewarding career. 
Later in the summer, in order to explore my interest in journalism, I was fortunate to job shadow at Spectrum 9 News in Albany. This was another enlightening experiencing that really opened my eyes to what is going on in the world around me. I was there for seven hours and my day began with a tour of the building. I was also provided a schedule for the day of the many different departments I would get to visit. I learned that the station we watch in Albany, is the hub for stations in Wisconsin, Massachusetts, New York City, Binghamton, Syracuse, and Rochester. I was able to enter the major control room where I stood in awe of the seemingly infinite television screens on the wall. The employees that work in this room report spelling errors and send stations to commercial break. I was also able to work with a producer named Greg whose job it is to fill a broadcast by inserting video and news segments, along with typing the words the news anchors read on the teleprompter. I even sat at the assignment desk to watch as employees worked tirelessly to find breaking stories to report on via all types of social media. 
Most importantly, I had the opportunity to talk with many different people to ask where they went to college and how long it took them to become experts in their fields. It was surreal to see familiar faces that I watch on Spectrum News from home. One in particular, Sports Director Marisa Jacques, gave me important advice regarding my college search. She told me to choose a college that really felt like home, because in the end it doesn't matter how highly a school is ranked. What really matters is the student experience and the connections a college allows a person to make. 
Both of these job shadowing experiences were a great way to explore my options over the summer before my senior year, while searching for a college major and career path. It was astonishing to see all of the people and resources required to make a veterinary clinic and a news station run smoothly. Being a veterinarian or a news anchor would both be highly rewarding jobs with plenty of excitement, where every day would bring something new. While I still haven't made a final decision about my college major, job shadowing has helped me gain more knowledge to feel what daily life would be like in that field. I recommend it to any student who does or doesn't know what they want to do after high school, before they step out into the real world.
About the Writer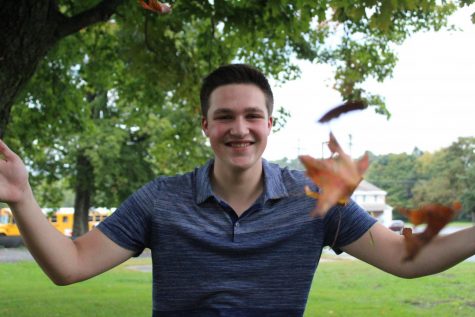 Alex Malanoski, EMC Sr. High Writer
Alex Malanoski is a Senior and loves to sing as well as draw in his free time. He also participates in GTV, and of course EMC. Alex is the treasurer of...