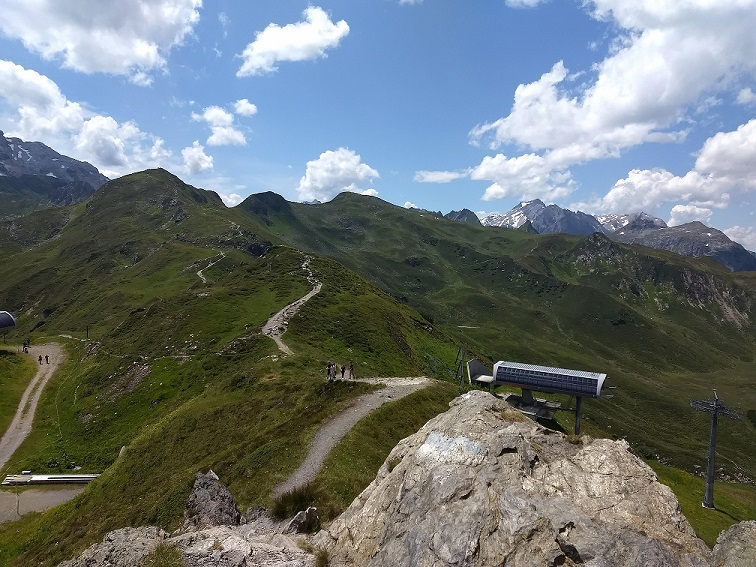 This summer I went on a 20-day People to People Student Ambassador trip to 7 countries. It was phenomenal! We had a 6 hour plane ride which I enjoyed. On international flights, you can watch a large selection of movies, tv shows and listen to music. They also serve you food. I watched "Game Night," "Love Simon" and "Deadpool." I also tried to sleep on the plane because I knew when we arrived in London,  it would be early in the day.
England and France were great to visit again. I visited The Tower of London and rode the London Eye again. The ferry ride from England to France was terrible! By the time we were able to sleep, it was already midnight and then we had to go to breakfast at 4am to be off the ferry around 5. In Paris, I tried escargot for the first time! It really isn't as disgusting as you may think. I went to the World War 2 memorial and then the museum. We visited Omaha Beach and I went into the water and collected sand and rocks. We actually went inside the Palace of Versailles this time and it was stunning. I visited the Eiffel Tower again, but this time I got to see it light up twice and it was even more beautiful!
After spending a week in London and Paris, we traveled to Belgium where I celebrated my 16th birthday. It was absolutely amazing. Everyone sang me "Happy Birthday" and I bought myself a Belgian waffle. We took a horse-drawn carriage ride through the city and it was beautiful. We also went to the Flanders Field Museum.
Then we went to the Netherlands. I enjoyed bike riding in Kinderdijk, I walked to the picnic area first and then decided to bike back to the gift shop. We went to a clog and cheese store the next day and we watched how they make clogs and then they told us how they make cheese. After that, we went to a diamond place and were awed over all the diamonds and jewelry. Next, we went to Anne Frank's house which was one of the only places I actually paid attention to. It was an amazing experience and it captivated me. Later that night, we had a canal cruise which was fun!
Next was Germany, my second favorite country I visited, and where I did my homestay. This was one of my favorite parts of my trip. When we got to Germany, we went to the Heidelberg Castle and Romerwelt.  Another girl in my delegation and I stayed with the same family. The family consisted of a mother, father and 3 girls. We attended their school one day. I went with the middle child, her name is Theresa. I went to art, English, math, science and German. English class was something with the kids, they kept asking me about sports and politics. They have longer breaks between classes than we do. Plus, the kids are left alone in the classroom for an extended time while the teachers move from classroom to classroom. We went for ice cream a couple times and it was delicious! The next day, we celebrated Jill's birthday (she is the youngest). Our homestay family took us to the Ulm Cathedral — the tallest church in the world. We climbed to the very top which was 768 steps up! This was a leg day for me! Then we went to a festival in the afternoon. We met one of the grandmothers and we played the game of "Life" in German and played bean boozled, which was a game of eating disgusting jelly beans. Sadly, the homestay had to end, which I didn't want it to because I felt like I had become part of their family. We ate all meals together and we did each others makeup, stayed up late watching "h20 just add water" in English, and it felt normal. They spoke English very well, so it felt like just going over to a friend's house.
After Germany, we headed to Austria which was my favorite country we visited. When we got to Austria, we hung out at a lake because we had free time. We went on a ropes course which was very fun!! All around us were the mountains and I absolutely loved the mountains! They are absolutely stunning and I climbed to the top of one of them. Then, on the way down, I rode the Alpine Coaster which was a blast because you went pretty fast and it's long. Our last day in Austria, we made feta cheese. Our last country was Switzerland. It is extremely expensive there. We only spent one day here and then flew out of Switzerland to the U.S.
On the flight home, I was not looking forward to being on a plane for 8 hours but I actually enjoyed it. I watched Bad Mom's Christmas, Pitch Perfect 3, Wonder, Beachfront Bargain Hunt and Chopped. When we got to the airport around 4:30pm, I had a 5 hour layover. For dinner, some friends and I went to Buffalo Wild Wings. Airport food is too expensive! Then I had my last flight into Syracuse around 10:30 and I finally saw my family around 11pm after not seeing them for 3 weeks.
I have so many amazing memories and a ton of photos! I miss everyone so much. I didn't talk to everyone but I became close with some people and I probably won't see any of them again. I spent 3 weeks with them and it makes me sad to look back at the group pictures.
Share your pictures and stories of your travels with EMC!