The Final Ping Pong Battle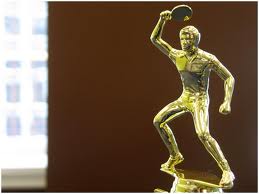 By Paige Galloway
Many watched as the Ping Pong Tournament progressed, and two victors have advanced to the final on Thursday, April 14th, which is being played right after school in th High School Gymnasium.
The first competitor, Mr. Barrow, is known to most as the band teacher, but during this tournament he shined, making it to the final. The second,  Brady Smith, is a freshman this year whose victories ranged from those against his own brother, to Mr. Swain, a past Ping Pong Champion. 
What does it take to be a Ping Pong Champion?  Two representatives from the Sports Management class took the opportunity to interview both players and gained some insightful information.
Both Mr. Barrow and Brady have participated in 2 Ping Pong Tournaments, including this one. When Brady was asked what inspires him to play ping pong, he quickly replied the movie "Balls of Fury." Mr. Barrow said, "It is a fun game that anyone can play, whether you are 8 or 80 years old. Not everyone can be Forrest Gump."
Are these ping pong players preparing for the final? Brady said he is not preparing much and occasionally goes to Swain's. He then said, "I will start my intense training next week."  Mr. Barrow answered, "I have been practicing with my 11 year old son and praying."
The next question asked of each contestant was how nervous they are from the final. Brady said 6 (with 10 being the most nervous) and Mr. Barrow answered a 7. But do they think they will win? Brady does. When asked why, he said it was because he volleyed with Mr. Barrow and beat him. Mr. Barrow was not as confident; his answer was, "No, I don't have the power. I have good accuracy, control and good hand-eye coordination; Brady has power. I beat Swain, though, and that gave me hope."
The final question asked was if they had any thing to say to their opponent. To Mr. Barrow, Brady said, "I hope you're not hustling me," and to Brady, Mr. Barrow said jokingly, "He better be a polite winner or I will wring his neck."
The final task for the Sports Management class was to take a survey to see who the favorite of this final would be. The survey showed that 72% of people predict that Brady will win and 28% believe that Mr. Barrow will win. Come support who you think will be the Ping Pong Champion by coming to the final on Thursday, April 14th in the High School Gymnasium!