Anime Review – Slayers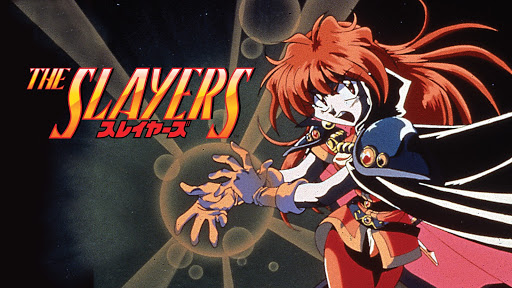 Do you desire adventure with a mixture of comedy and suspense?
Then the Slayers series should be on your watch list! Slayers was a Japanese light novel, by Hajime Kanzaka and illustrated by Rui Araizumi. Slayers is about a teenage sorceress Lina Inverse and her companions as they journey through their world using powerful magic and swordsmanship to slay corrupt wizards, demons and the occasional gang of bandits. Slayers inspired several spin-off novel series and has been adapted into numerous manga titles, anime television series, anime films, OVA series, role-playing video games, and other media. Including the spin-off series, the novels have over 20 million copies in print. The anime series is considered to be one of the most popular of the 1990s.
The key to Slayers has to be the main character, Lina Inverse. Lina is known as one of the most powerful and feared in all the land. For any young girl growing up, she was considered an icon, a hero who could vanquish any enemy and most importantly was a girl who didn't expect a man to save her. Common in anime and in other tv genres, normally the female characters are quite useless, but for Lina Inverse that's just not the case. Even after watching the series, in 2020, I still stand in saying Lina Inverse was the real icon girls looked up to rather than Sailor Moon. Overall, if you're looking for a female character that stands strong in any hardship, then you're looking for Lina Inverse. 
Warning to the newly entered anime fans of the current generation; Slayers was created in 1995, so the animation is old and some of the references you might not understand. Despite this, it's still worth a watch. Overall I give Slayers a 8/10. Some of the plot devices are lacking and a little boring, yet the lovable characters and the world building are fantastic. Additionally the power levels and spells are understandable, unlike other action/adventure anime. And shockingly, for all those individuals who hate subtitles, the English dub for this series is very good. I love Slayers and I'm certain you will too. 
Here's a link to Lina Inverse casting "Dragon Slave," an extremely powerful ancient spell – https://youtu.be/r1U9ESUBpmA